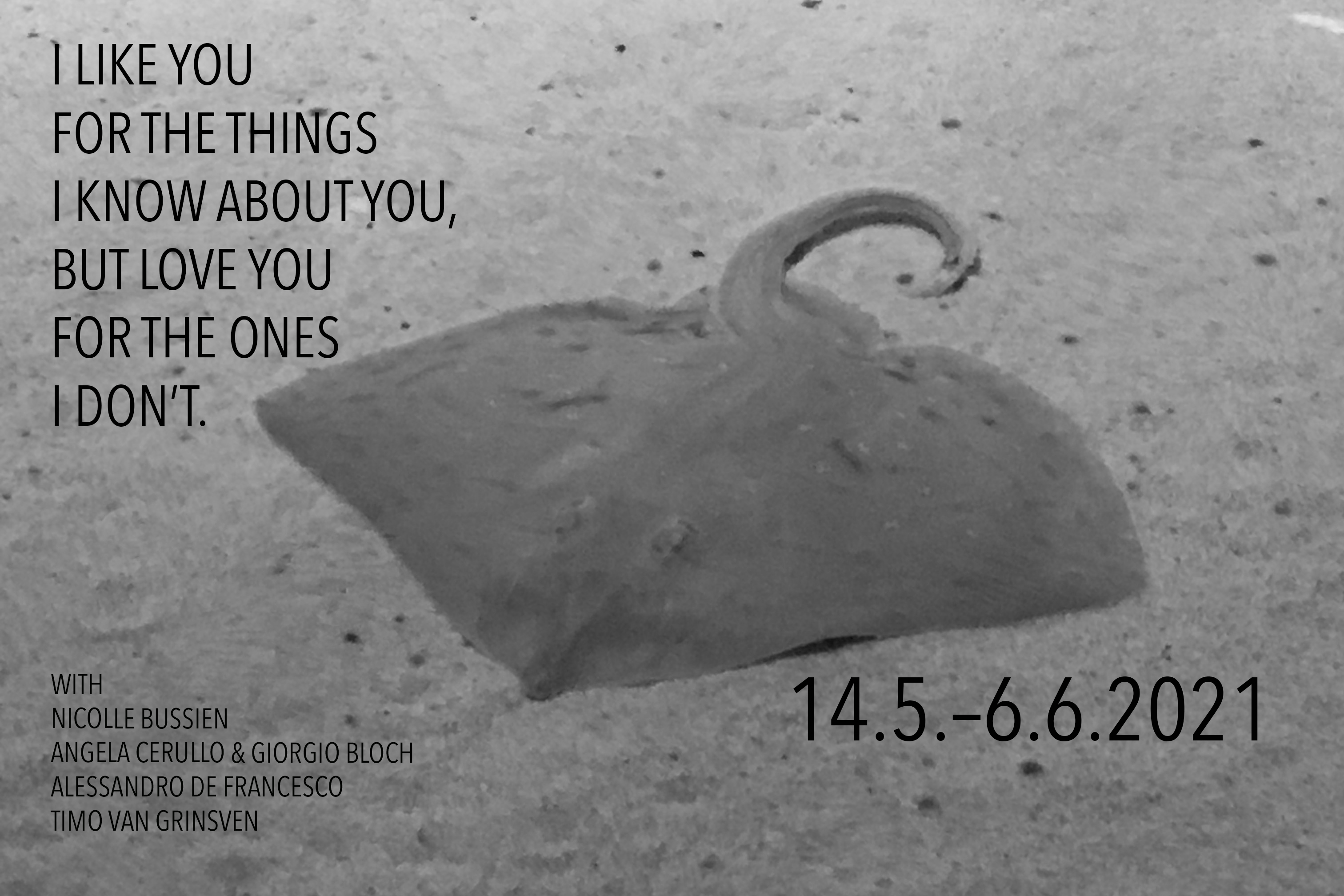 Happy to welcome you when we are softly opening this show on the 14.5.2021 from 5-9 pm
EN
The concept of similarity seems an essential mode of human perception. If we look at an object or our surroundings, we try to find a matching image or experience in our head, to better understand what we see. Sometimes a face we don`t know reminds us of someone we are familiar with, sometimes lines become a sign. Seeking similarities as a method to generate knowledge is often critically questioned, as the conclusions of analogical reasoning do not follow with certainty. Nevertheless, it might be interesting to ask what we consider as familiar, what as the other. What/who do we develop empathy for, what/who do we exclude and feel (in)different towards? And eventually can art, which confronts us with variations of the everyday as well as the strange, expand our capability for empathy; empathy for other beings, but also towards our environment? Empathy, after all, does not always need to be built on knowledge alone and could as well be the result of curiosity or affections beyond explanation.
The exhibition includes four artistic positions that each relate in their own manner to the ideas sketched above.
DE
Das Konzept der Ähnlichkeit scheint ein wesentlicher Aspekt für die menschliche Wahrnehmung zu sein. Wenn wir ein Objekt oder unsere Umgebung betrachten, versuchen wir, ein passendes Bild oder eine Erfahrung in unserem Kopf zu finden, um besser zu verstehen, was wir sehen. Manchmal erinnert uns ein unbekanntes Gesicht an jemanden, den wir kennen, oder Linien werden zu einem Zeichen, das es zu lesen gilt. Die Suche nach Ähnlichkeiten als Methode um Wissen zu generieren wird oft kritisch hinterfragt, da Analogieschlüsse nicht mit Gewissheit folgen. Dennoch kann es interessant sein, der Frage nachzugehen, was wir denn als vertraut, was als das Andere betrachten. Für was/wen entwickeln wir Empathie, was/wen grenzen wir aus und wem gegenüber sind wir gleichgültig? Und kann möglicherweise Kunst, die uns mit Variationen des Alltäglichen wie auch dem Unbekannten konfrontiert, unsere Fähigkeit zur Empathie erweitern: Empathie für andere Wesen, aber auch gegenüber unserer Umwelt. Mitgefühl muss schließlich nicht immer mit Wissen begründet sein, denn es könnte auch aus Neugier oder Zuneigung jenseits des Erklärbaren entstehen.
Die Ausstellung umfasst vier künstlerische Positionen, die sich jeweils auf ihre Weise auf die oben skizzierten Ideen beziehen.
Text and cur. by Karen Amanda Moser
IT
Il concetto di somiglianza sembra un modo essenziale della percezione umana. Se guardiamo un oggetto o ciò che ci circonda, proviamo a trovare un'immagine o un'esperienza corrispondente nella nostra testa, per capire meglio ciò che vediamo. A volte un viso estraneo ci ricorda qualcuno che conosciamo, a volte le linee diventano un segno. La ricerca di somiglianzecome metodo per generare conoscenza è spesso messa in discussione, poiché le conclusioni per analogia non sono certe. Tuttavia, potrebbe essere interessante chiedersi cosa consideriamo familiare, cosa come l'Altro. Per cosa / per chi sviluppiamo empatia, cosa/ chi escludiamo e verso cosa/chi ci sentiamo (in) differenti? E alla fine l'arte, che ci confronta con variazioni del quotidiano e con lo sconosciuto, può espandere la nostra capacità di empatia; empatia per altri esseri, ma anche verso il nostro ambiente? L'empatia, dopo tutto, non ha sempre bisogno di basarsi sulla conoscenza ma potrebbe anche essere il risultato di curiosità o affetti oltre ogni spiegazione.
La mostra comprende quattro posizioni artistiche che si relazionano ciascuna a suo modo alle idee sopra abbozzate. (Translated by Angela Cerullo)